Apidya - War At Meadow´s Edge
Apidya is one of the greatest 2d shoot `em ups of all times.
It is original, fair and plays very well.
Beside the normal weapons and speedups you also have a R-Type-alike megashot and you can have drones (since your a Honeybee that´s quite suitable ;). Enemies and levels vary a lot and there are several smaller bosses and secrets. But believe me, if you encounter a end-of-level Boss, you´ll recognize him.
Or did you ever battle a three screen wide Fish before ?

Believe me - it will take you to your limits.

Graphics and sound are more then excellent - so what may somebody expect more ?

(site might load a bit, sorry for the size...)
Screens
-click to enlarge screenshots-
Intro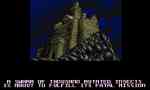 Options
Level 1 - Meadows Edge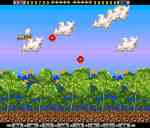 Tip:fly into the moles home after defeating him


Secret Level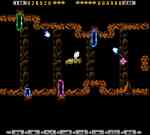 Level 2 - The Pond
Level 3 - Sewers
Level 4 - Techno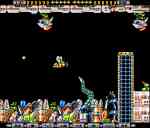 Level 5 - Panic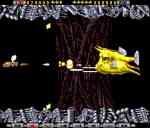 Powerups

All Powerups can be selected 2-3 times and become more powerfull each time.
Speedup
Makes you faster, but be carefull not to get too fast !
Plasma Pulse
Up two 3 energy-snakes, burning everything.

Bomb - Torpedo
These two weapon systems are active alternate:
-The Bee drops an Energy-Bomb on the floor
-The Bee shoots two Torpedos, which are able to avoid small obstacles

Drone
Up two 2 drones who follow and shield you, fires own shots
Spread Shot
Up to 5 multiple Shots
Shield
Absorbs up to 5 shots per activation
Lightning
Up to 3 lighning beams, shoots horizontal
Speed Down
In case you got to fast
Cheats
Pause the Game (p) and enter ULRDABBA for maximum Powerups - but only once in the whole game.

Enter the following at the Titlescreen:
misshoneybee - start at level 2
deputyoflove - start at level 3
hastalavista - start at level 4
sneakpreview - start at level 5
showcredits + Return - view End
Press Help and Delete during game play for slow motion (untested!)

Secrets
Shoot the big mushroom and collects the little mushrooms flying out for Shield
Collect the Angel after killing the caterpillar
After the mole has died, you can safely fly in his hill
You can fly in the big Fish-Bosses´ Mouth
After killing the Maggots, you may fly in the rats stomach
original Concept Art (by Frank Matzke)

Remake

Apidya 2002 is a remake by Stefan Becker a.k.a fl_cody, playable under Windows !
Visit http://apidya.vg-network.com for his homepage !
Review - Amiga Joker 12/91
(german only, sorry)